Możliwość dostawienia przeszklonego systemu przesuwnych ścian tworząc ogród zimowy

Materiał konstrukcji aluminiowy wykonany z solidnych profili o dużym przekroju

Płyty z poliwęglanu komorowego o dużej grubości 16mm lub ze szkła laminowanego hartowanego 9,14mm

Płyty w kolorze bezbarwnym lub mlecznym

Konstrukcja w kolorze antracyt

Solidna konstrukcja umożliwiająca montaż w miejscach użyteczności publicznej

Wysokość słupów do 260cm

System rynnowy zapobiegający ściekaniu wody z dachu

Mocowanie do ściany

Płyty przepuszczalne dla światła

Odporne na grad oraz uderzanie

Nowoczesny wygląd

Możliwość zakotwienia w gruncie

Chroni przed deszczem i niekorzystnymi warunkami pogodowymi

Możliwość instalacji ledowej wewnątrz profili aluminiowych

W zestawie elementy montażowe, kotwy oraz kołki do przymocowania zadaszenia do ściany oraz do podłoża

Konstrukcja umożliwia montaż markizy zacieniającej otwieranej elektrycznie

Stały dostęp do części zamiennych
Nowoczesne aluminiowe zadaszenie Modern PRO jest wykonany z grubych profili aluminiowych oraz płyt poliwęglanowych o grubości 16mm lub szkła laminowanego hartowanego 9,14mm.
Konstrukcja jest w kolorze antracytowym, a płyty można wybrać spośród kolorów bezbarwny, mleczny
Płyty poliwęglanowe są odporne na działanie promieni UV, a materiał ten jest 200 razy bardziej odporny na uderzenia od szkła. Jest to nowoczesna konstrukcja o atrakcyjnym wyglądzie, która doskonale zintegruje się z nowo wybudowanymi budynkami.
Profil dachowy oraz przyścienny mają konstrukcję umożliwiającą montaż instalacji ledowej we wnętrzu profilu tworząc niepowtarzalny klimat w otoczeniu zadaszenia.
Zadaszenie można wyposażyć w przesuwny system przeszklenia tworząc w ten sposób ogród zimowy, dzięki czemu możemy korzystać z tarasu od wiosny do jesieni nie martwiąc się o niską temperaturę na zewnątrz.
Boki zadaszenia można wyposażyć w nieotwieralne ściany z płyt poliwęglanowych chroniących przed wiatrem oraz przed widokiem z sąsiednich działek
Konstrukcja jest stabilna i odporna na silny wiatr oraz śnieg
Zastosowane płyty poliwęglanowe są objęte 10 letnią gwarancją - jest to główny parametr określający jakość poliwęglanu

Zadaszenia dostępne w szerokości (wymiar od ściany do podstawy) 250cm, 300cm, 350cm, 400cm
Dostępne długości (wzdłuż ściany) 306cm, 406cm, 506cm, 606cm
Istnieje możliwość zmniejszenia wymiarów podczas montażu bez dodatkowych kosztów.
Zadaszenie przeznaczone do montażu przez osoby mające doświadczenie budowlane
Istnieje konieczność docięcia niektórych elementów i nawiercenia otworów.
Zadaszenie należy solidnie zakotwić do podłoża.
Istnieje możliwość zmniejszenia wymiarów (bez dopłaty, podczas montażu)
W przypadku dachu szklanego możliwe wyłącznie zmniejszenie długości (wzdłuż ściany) o 50cm lub o dowolny wymiar
W przypadku łączenia zadaszeń/ogrodów należy przyciąć 3 elementy tj. rynnę, maskownicę rynny oraz listwę przyścienną o 6cm.
Przykład: Zadaszenie o długości 806cm wykonywane jest z połączenia dwóch zadaszeń o długości np. 406cm co przy pozostawieniu ich w standardowym wymiarze dałoby 812cm.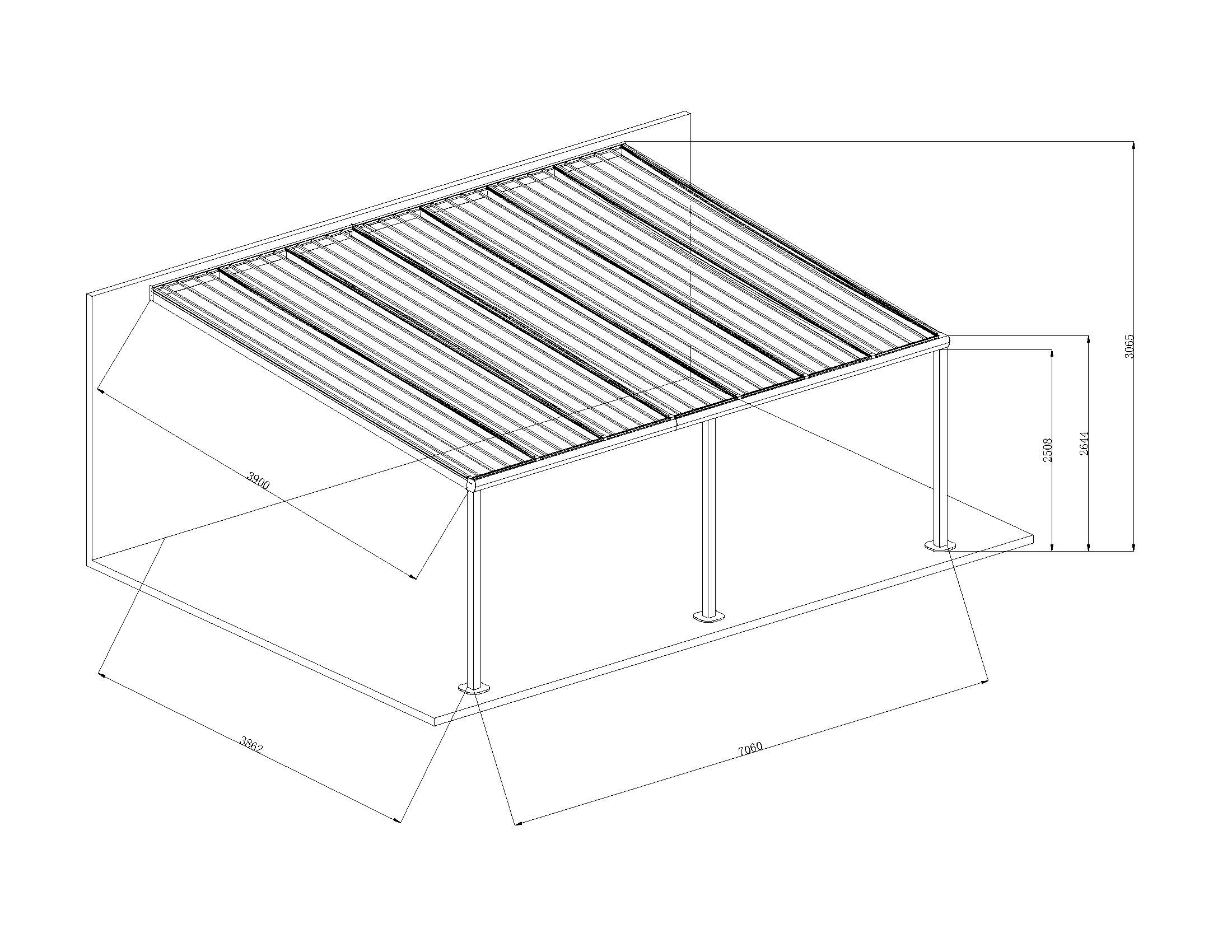 Dane techniczne:
Szerokość (od ściany do słupów) [cm]

400

Długość (wzdłuż ściany) [cm]

706

Powierzchnia [m2]

28,24

Długość słupów [cm]

260 (lub mniejsza na życzenie)

Wysokość przy ścianie [cm]

316 (lub mniejsza na życzenie)

Średnica słupów [cm]

11 x 11

Kąt nachylenia dachu [st]

8

Przesuwne ściany ze szkła hartowanego 10mm

opcja

Różnica wysokości przód/tył [cm]

49

Przesuwne ściany ze szkła hartowanego 10mm

opcja

Ściany z poliwęglanu 16mm

opcja

Oświetlenie LED

opcja

Elektryczna markiza

opcja

Kolor

antracyt

Pokrycie dachu

Poliwęglan 16mm komorowy
Szkło laminowane hartowane 9,14mm

Powłoka

malowanie proszkowe

Gwarancja odporności UV

10 lat

Konstrukcja

aluminium

Wypełnienie ścian

poliwęglan komorowy

Grubość płyt dachowych poliwęglan [mm]
Grubość paneli szklanych dachowych [mm]

16
9,14

Ciężar [kg]

245

Kolor poliwęglanu

bezbarwny / mleczny
*wkrótce w ofercie